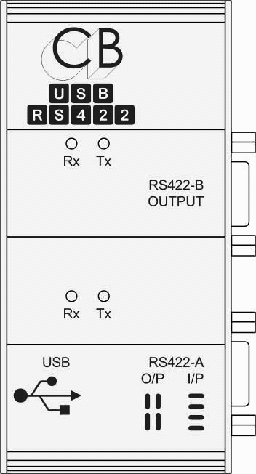 Basic information below and further information USB422 Downloads
for manuals, flyer/overview and software
Main Features

Two RS422 ports, Connections to Standard Sony RS-422 pin-out
Port A may be configured as a Controller (O/P)or Device (I/P) using internal links
Port B is configured as a Controller (O/P)
Windows 98, ME, 2000, XP, 7, 8 and 10 Drivers
MAC OS-X Driver
Linux Driver
Optional Tri/Bi Level Video Sync Reference input
Parallel I/O port with Video Sync option
Tx and Rx LED's on both ports
Slew Rate Limited RS422 drivers to minimise EMI and reduce reflections
Sample Windows Program on website
Rugged extruded aluminum box
WEEE/RoHS Compliant
Design
USB Interface
CB Electronics have for a number of years used USB-RS232 interfaces both with and without RS232-RS422 converters. In designing the USB422 we used the experience with many different manufactures to chose the best combination of hardware and drivers.
RS422 Interface
Slew Rate Limited RS422 drivers to minimise EMI and reduce reflections on incorrectly terminated connections. Pin-out and termination as per standard Sony connection. Port A may be configured as a Device (I/P) or as a Controller (O/P). Port B is configured as a Controller (O/P), to use as a Device a Tx/Rx invert lead must be used.
Drivers
Drivers for Windows 98, ME, 2000 and XP with MAC OS-X and Linux are all available from our web site. www.colinbroad.com/cbsoft/usbdriver.html The USB422 windows drivers are optimised for minimum latency. When installed on Windows the port numbers are set to the last two free port numbers, this may be changed using the driver parameters.
Test Program
A test programme that provides both machine control and a virtual machine is available from our web site. The program locks both the virtual machine (Port-A) and machine control (Port-B) to video syncs. The program is written in Delphi (Object Pascal).
Video Input
The Optional Tri/Bi Level video sync input is converted to a frame rate square wave and is connected to the Port A and B CTS Interrupt inputs. The CTS input level after change indicates the video field.
Parallel Input
Fitted with optional video input provides separate GPI I/O driven from the RTS, DCD, DSR, RI, DTR signals from both ports. TTL level inputs and Open collector outputs are provided.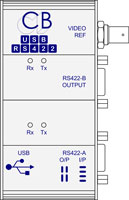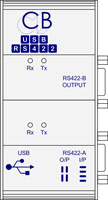 Size
4.4 x 2.1 x 1.2 (112 x 55 x 31) excluding connectors