b Colin's Cuba Challenge! b
in aid of
Guide Dogs for the Blind &
the Cuban Association for Blind People
Colin Broad of CB Electronics, has signed up for a sponsored cycle ride of 250 miles across Cuba from Trinidad to Havana.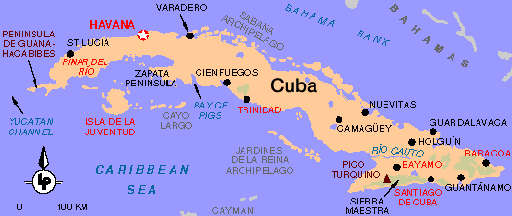 I have wanted to go to Cuba for some time, and needed some inspiration to reduce my weight and improve my fitness. When I saw the advert I had no second thoughts and decided to go. The trip is planed for the 5th of February 2000.

The challenge is organised for the Guide Dogs for the Blind Association The sponsorship will be used both for the training of Guide Dogs in Britain (The lifetime cost of each dog is £34k) and for the Cuban Association for Blind People.
I have paid £250 and need to raise at least another £2,100 in sponsorship. Seventy five percent of the sponsorship money should be delivered to the association before January.
b
As a boy I had a racing cycle but that was thirty or more years ago. I bought the new bicycle for the trip two weeks ago, I chose for strength and comfort, the bicycle has sprung front forks and a sprung seat post.

The big surprise came after the first ride, I had forgotten how hard the saddle was! I am looking forward to buying a pair of lycra cycle shorts padded in the appropriate places.

I managed to fit in 150 miles of cycling in the first two weeks but now I am off abroad for a week and my training schedule is off again. The longest day will involve 73 miles of cycling in 75-85 degrees of tropical sun shine, the most that I have managed so far is 18 miles
Distances between Cuban Cities
The trip will take me from Trinidad to Havana

via Guajimico to Santa Clara, Sagua Grande, Mananzas and Playa Amorillo

.

I hope to see more of Cuba than the usual tourist traps, and to have time to enjoy the 'Salsa Beat'.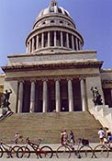 Chris Price at Ambient Recording (Munich) has promised to make an attachment so that I can mount a DV camera to the cycle. This will enable me to make a video diary of the trip. I will be showing this at the AES in Paris next year (assuming that I survive)
I am planning to spend an extra week in Havana and have already made contact with a recording studio in Havana thanks to Mark Broad at the APRS, I would like to make contact with film, sound, and post studios on an exploratory basis.
I would appreciate any sponsorship large or small.
You can contact me either by, telephone, post or email.
Colin Broad, CB Electronics, Loddonside, Lands End House, Beggars Hill Road, Charvil, Berks RG10 0UD
Tel: 0118 9320345,
E-mail: colin@colinbroad.com
Audio people

Ken Summerville (Anvil Post Production)
Roberto Bepato (audio international)
Wes Dooley (AEA)
A Bralin
R Johnson
L Lenbeth
Renee Plummer
Rey Benavides
Les
Ron Streicher
Zenobia Millett
Chris Bowman
Mark Yonge
Brooks Harris
Mike Parker
Antony Faust
Lionel Strutt
Phil Guy
Graham Hartstone
Martin Powsland
Peter Hoges
Brigid & Laurie
Graham Edmunson
Buzz
Norman Brown
Vivienne Dyer (Rycote)
Dave Turner

Others

Spriggs Screenprint
Carol & Richard Mitchel
Vince D'Urso
Jan Macleod
Terry Gostling
Kevin Caldicott
Teresa Slark
Paul Nash
Gary Pike
Steve Hall
Steve Vat
Marcus
SD Fisher
Andrew Butcher

Family

India Pinnock
Max Pinnock
Katinka Pinnock
Douglas Pinnock
Peter Gruen
Lulu Gruen
Cammila Gruen
Zadie Broad
Hilda Broad
Daniel Broad
---
Page maintained by Brigid Scott Baker, postroom@musicnow.co.uk. Copyright(c) 1999 musicnow. Created: 26/11/1999 Updated: 18/02/2000